Essentials Report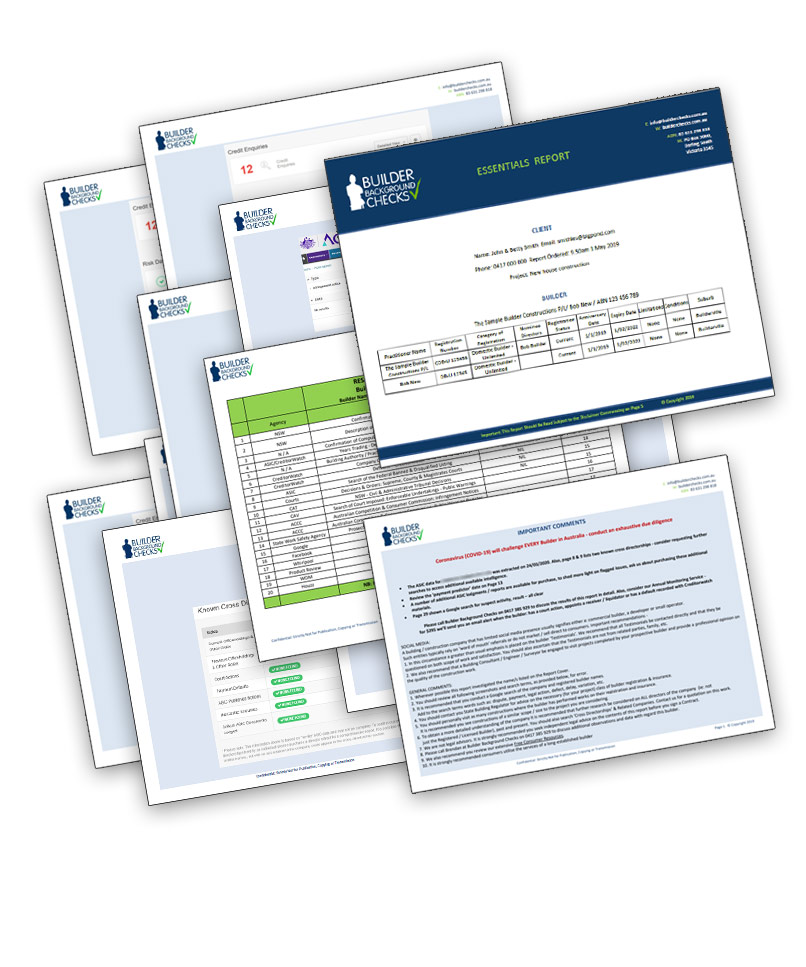 We locate and interpret builder reputation data, to help you avoid repeat-offending builders.
FIND OUT IF YOUR BUILDER HAS:
Appeared in the Courts
Appeared in the State Administrative Tribunal
Had Court Enforced Undertakings or Public Warnings
Breached State Work Safety Rules
Appeared on the Federal Notice Register
Appeared on the National Corporate Public Warning Register
Been Sanctioned by the State Building Regulator
Has the Builder or co-directors been Banned or Disqualified
WHO ARE THEY & ARE THEY REGISTERED TO BUILD?
What's the Company Structure?
Who are the Directors?
Is the Builder Legally Registered or Licensed to Build?
What Restrictions have been placed on their Registration or License?
Does the Builder have the Mandatory Insurance?
WHAT DO HOMEOWNERS THINK OF THE BUILDER?
What is the Builder's Online Reputation?
We search the 9 most Active Builder Review Sites
YOU'LL ALSO RECEIVE
Personalised Written Appraisal of Findings
Cost: $249
10% Discount Applied to Multiple Orders
Average Report Completion Time: 2 to 3 business days
Annual Monitoring Service: To further protect your investment, consider ongoing monitoring. Receive an email alert when the building company has: a court action, a payment default recorded with our mercantile agency, or if a receiver or liquidator is appointed: $295 pa
Direct Deposit: Builder Background Checks P/L BSB: 633000 Account: 165382755 - Please email payment details to This email address is being protected from spambots. You need JavaScript enabled to view it.
"Professional and prompt service. A must if you're building" Tony, Melbourne