Architect, Designer & Draftsperson - Who Does What ?
All designers and architects have their own style and personal preferences.
You're the only person that knows what's going to satisfy your needs for your building project. The design task will be made easier if you find a designer that's sympathetic to your aesthetic. And the best way to commence the design phase is to have very firm ideas about what you want.
Begin at the Beginning: Gather lots of information to share with the designer:
Create a written description of the non-negotiable elements, for example you might say "Extension under $450k with 2 bedrooms, one ensuite (with bath), hydronic heating, and double glazing is also a must". Do you need terracotta tiles on the roof ? OK, make sure to write it down, and then make sure your loved one/s agree with the description.
Dollars. How much are you going to spend? To avoid wasting everyone's time you need a firm idea of what funds will be available. Do you have the cash? or, do you need to speak with the bank first?
Also consider your motivation for the project. Are you building your 'forever home', something to wow friends with, or is it just a first foothold in the market?
Ask yourself, are you at risk of over-capitalizing? It's wise to talk to real estate agents about the market, how your building project will impact the value of your investment and what features buyers are looking for in your area. Unless you plan on being 'carried out in a box' understand the impact of this project on the resale price of your investment.
It's much like going to the barber, if you can't tell them what you want they'll likely give you what they do.
Designing & Drafting
It may be a crude over-simplification, but an architect is a specialist in design. A building designer and draftsperson are more involved in the documentation, drawing and delivery.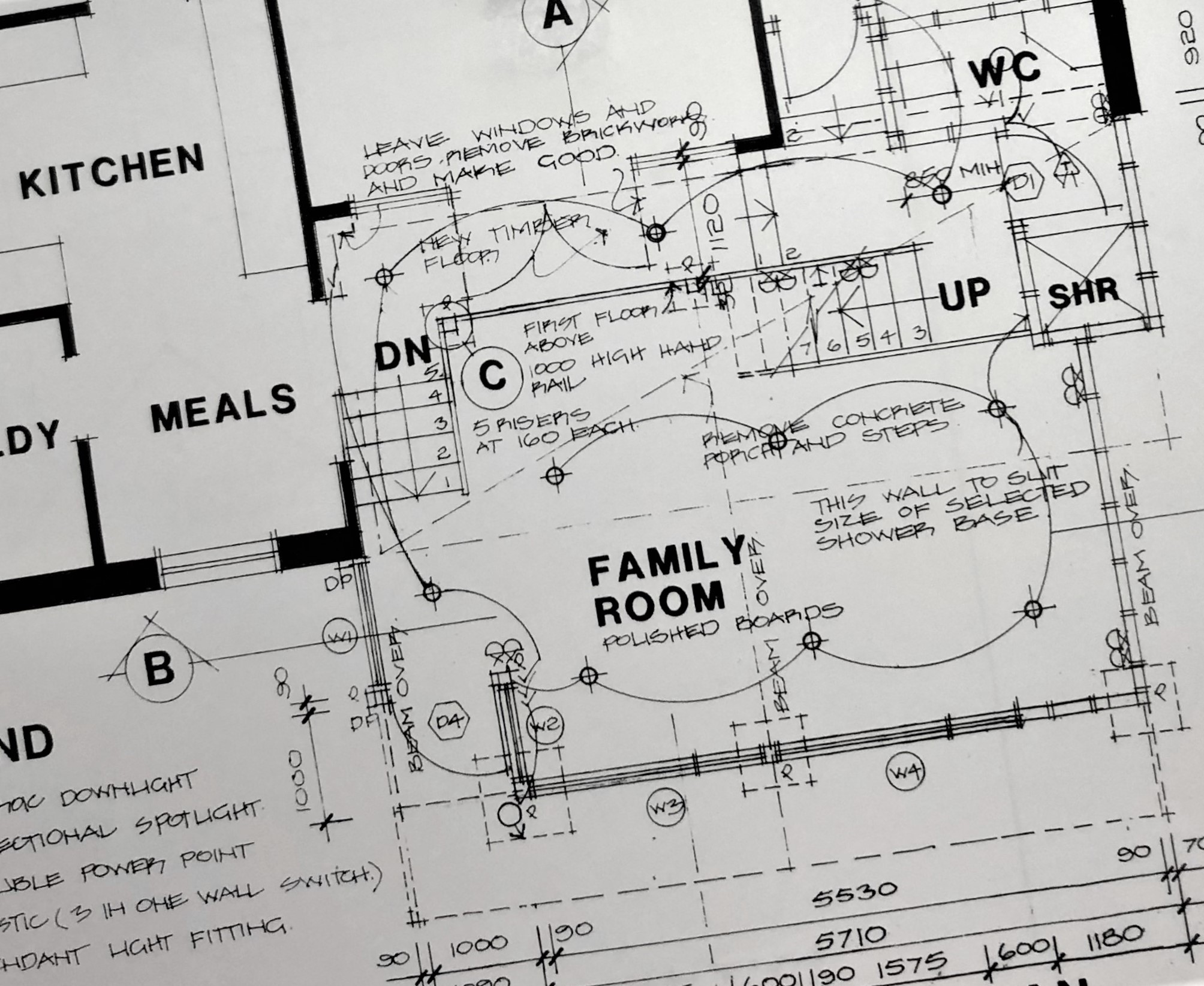 The hierarchy looks like this: architect > building designer > then the draftsperson is at the bottom (sorry draftspersons!). A great building designer, draftsperson or architect will produce good design and create suitable drawings for your project. There's a big difference though in education, qualification, expertise, consumer expectation and cost (more on this in a moment). Regardless of who produces them, you'll need specifications and drawings, which are essential to create your tender pack, obtain the permits and to instruct the builder once you've commenced.
Note also, there are lots of 'pro forma' designs available to consumers that are 'architect designed'. Many 'volume builders' have multiple stock designs that appear to suit the need of a great number of Australian home buyers.
Architects
The vast majority of Australian building projects don't employ architects to create their bespoke ideal. Why? They cost more.
At risk of over-simplifying things, architects have extensive university-level education, high consumer expectation, insurances and ongoing licensing costs - that's why they come at a cost.
If money were no issue most of us would probably prefer to drive a Mercedes rather than a Gogomobil. But we make compromises in one facet of our life to satisfy another. The question you have to answer is this - how important is amenity and design to your project? Architects are specialists. As are heart surgeons. If you want the best possible outcome from heart surgery most people will choose the heart specialist, not their local bulk-billing GP.
However, we all have additional considerations that may compete with excellent design and amenity. It's a decision only you can make.
Pro Tips
Some of the best architects and designers do little advertising as they obtain much of their work from referrals, you'll need to do some legwork to find them.
Also, it's a good idea to make an initial call to your local Council or Shire to obtain a 'heads-up' on localized Planning, Heritage or Building Scheme Overlays that may affect your build. Finally, check with your State Building regulator to verify that the Architect, Building Designer or Draftsperson is appropriately registered.
by Brendan Watkins
We've helped hundreds of Australians complete their due diligence with our unique range of credit rating, defaulting, company & court records. We also search hard-to-find regulatory, insurance, social & government records to ensure our clients avoid repeat-offending builders. If you're about to build, or extend credit to builders, we'll do your homework for you.
Disclaimer: Builder Background Checks P/L (BBC) provides advice of a general nature only. BBC does not provide formal legal, regulation or building advice. The advice published has been prepared without taking into account your specific objectives or needs. Before acting on any commentary, articles or reports provided by BBC you should consider their appropriateness to your specific objectives, financial situation and requirements. BBC shall not be liable to any party as a result of any information, services, or resources made available as part of its reports or articles contained on this website.